NOTICE: THIS IS A STEERING PLANNING WEB-PAGE. ALL PROJECT DEMONSTRATION PROPOSALS ARE FOR PLANNING COMMUNICATIONS. THEREFORE, ARE NOT REPRESENTATIVE OF FINAL DRAFT REPORT.
MUST AGREE TO BILATERAL NON DISCLOSURE AGREEMENT
NATIONAL ROAD-RAILER FREIGHT SERVICES GOALS
ATD LINES believes thata "National Road-Railer Freight Services" interaction between motor freight and rail continues to be an effective solution to natioanl rail line community transportation planning, in which " National Road-Railer Freight Services" are reliable, flexible, and efficient contributed to market share for motor trailer to rail freight movements within national rail network.
Rail Line Community congestion in urban rail line communities and inter city corridors is a growing concern, that motor vehile traffic has become a significant contributor to road congestion. Rail line community rail corridors are underutilized and can be productive in management of rail traffic to national network.
ATD LINES believes underutilization of rail line community corridors increasing the opportunities to move trailer freight by rail, would decrease deterioration of existing highways mobility, while "positively affecting" congestion, safety, pollution and fuel demand issues.
OBJECTIVES
ATD LINES objective is to develop Road-Railer Freight Services and assess the merits of public and private investment in " National Road-Railer Freight Services" as a viable solutions to relieve roadway congestion and demonstrate how best to incorporate national rail line community freight into urban and inter city transportation decision making.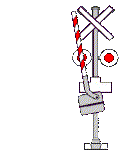 © Copyright 1981- ATD LINES All Rights Reserved
Not affilated nor owned by NRPC-Amtrak