TAKE A LEADERSHIP ROLEMISSION OF SEATTLE RAILWAY HISTORICAL SOCIETY
Seattle Railroad Historical Society Non-Profit mission is to further scholarly academic understanding of Seattle's Railway History and interest in the Seattle's Railroad Historical Preservation and its past predecessor of railway historians who were stimulating and encouraging the collecting, researching, recording and preserving of all technical, historical and practical information concerning the Seattle's Railway History and to make this information available to interested persons. And to further the "accurate active modeling" to preservation and restoration of the Seattle Railway Heritage so that future generations may better appreciate and understand the Seattle's Railway History.
---
MAKE A DIFFERENCE IN SEATTLE RAILWAY PRESERVATION
Become An Active Seattle Railroad Historical Society Member
Give A Gift Membership To Someone Who Care About Seattle Rail Line Community
---
TAKE AN ACTIVE ROLE IN SEATTLE'S RAIL LINE COMMUNITY PRESERVATION
sea-rhs@usa.com
Preserving Seattle's Railway History and Hertigate of the Iron-Wheel, wheather by steam locomotives or modern diesel electric engines, there's place for you in Seattle Railroad Historical Society.
By joining the Seattle Railroad Historical Society, you can make a difference in our rail line community's historical preservation.
---
RAILROAD HISTORICAL SOCIETY OF SEATTLE, WASHINGTON, is seeking Seattle Area & Washington State residents, business professionals, merchants, railway personnel and other qualified citizens, to take a chair on the Seattle Railroad Historical Society Board, as community advisers, who will elect representatives to board and participate in preparations, organization and planning for the "Seattle Railroad Historical Preservation and Resoration Projects"
Citizens interested in Seattle's Railroad History and Preservation Activities, can give labor of time and professional expertise in major railroad preservation project planning are to "Email Resumes" and "Letter of Professional Expertise to: srhs@usa.com
---
MEMBERSHIP BENEFITS
Quarterly issues of the Seattle Railway Preservation Bulletin
6 issues of the Seattle Railway Restoration News
Membership Card
Discounts on various rail attractions
Advanced ticket purchase to the Railroad Historical Convention
Seattle local organization of railway historical interest, with national/international railroad preservation network
Opportunity to meet and socialize with members having similar interests in:
Local Railroads Preservation Project Photography Arts and Culture Editorial Writing Equipment Operations Restoration Academic Research Investigation Travel Excursions To Historial Destination

Recognition for continuous membership in our Membership Awards Program.
Opportunities to contribute time and energy to local preservation and restoration projects
National, Regional and Local prespectives on railway historical issues to:
Protect Educate Preserve Promote the past, present and future of Seattle railways
---
MEMBERSHIP DUES
$45.00 per year head of household
Additional family members living in the same household $5.00 per year
---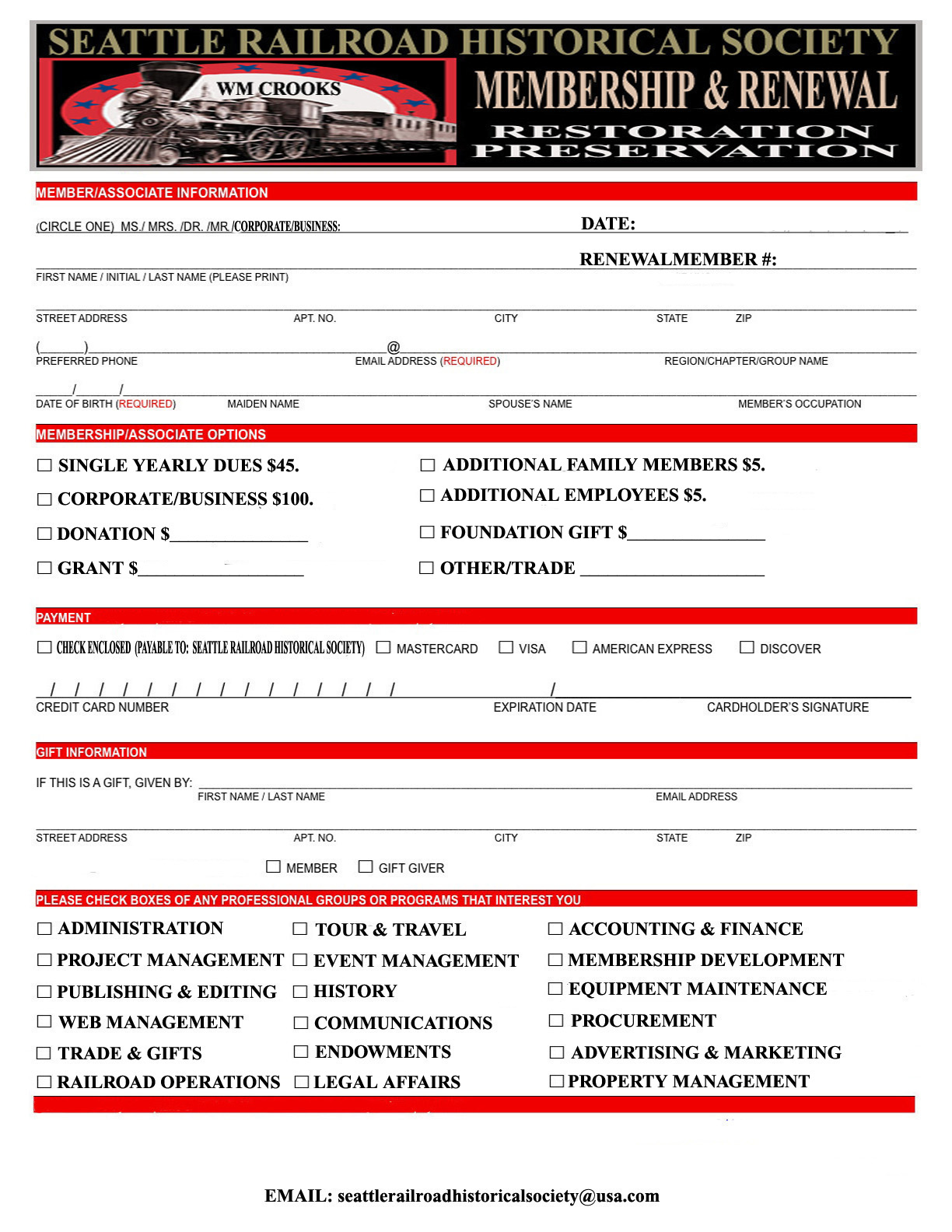 SEATTLE SAVING THE PAST FOR THE FUTURE
The City of Seattle is not a rail line community commitment to historic preservation and restoration that began in the 1960's to block some proposals under "Urban Renewal Planning" that would destroy downtown historical sites. The Seattle City Council in 1970 secured the City's first historic preservation district and voters approved an initiative for historic district development. Seattle City Council adopted a "Landmarks Preservation Ordinance" to safeguard historic and architectural sites in 1973.
Historic Preservation and Restoration of Landmarks Include:
Pioneer Square
Pike Place Market
Ward House
Space Needle
and many more Buildings & Piers along Seattle's Waterfront
Not Limited Too

SEATTLE ESTABLISHED HISTORICAL DISTRICTS

Ballard Avenue
Columbia City
Fort Lawton
Harvard-Belmont
International District
Pike Place Market
Pioneer Square
Sand Point Naval Air Station

All of Seattle's Landmarks and Historical Districts have been influenced by the introduction of the railroad to Seattle and have been served by the railroad industry.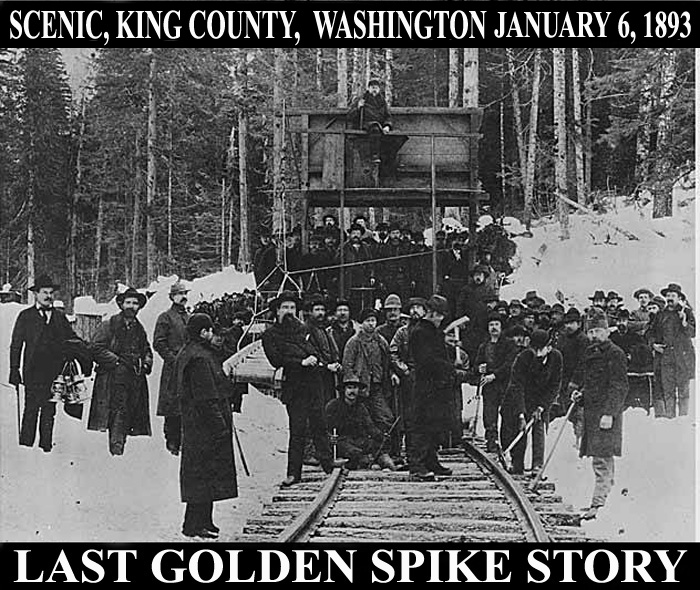 Railway Arts, Culture and History have established roles in Seattle's lifestyle, work habits and tourism, as center of railway creativity.
The railway cultural community serves and expresses the diversity of city as a destination, with its capacity for railway innovations, spirit of educational resources, railway economic vitality, quality of life, and the spirit of equity in humanities.
Railroad Historical Society of Seattle's vision as a city renowned for cultural dynamism, innovation, opportunity and inclusiveness, where railway artists can thrive as valued asset of emerald city.

---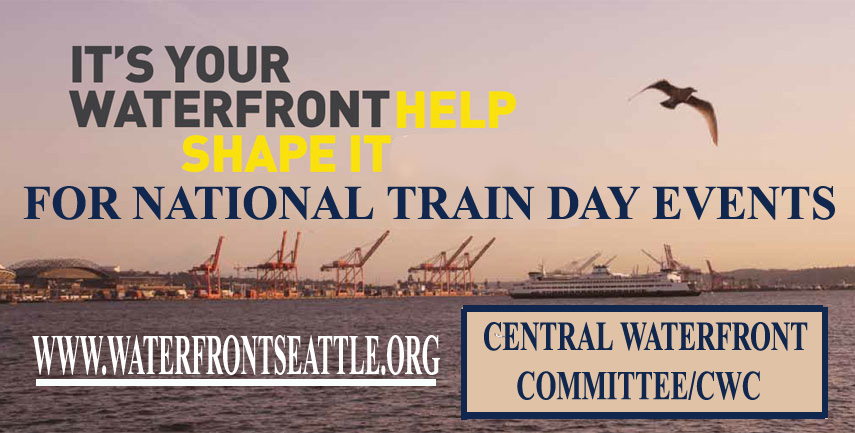 Waterfront Seattle is a partnership between the City of Seattle and the entire community to create a dynamic public waterfront, which will become a new civic heart for the city. Building on 10 years of public planning, Waterfront Seattle is a large-scale design process for a range of improvements to our waterfront covering 26 city blocks from King Street to Broad Street.
The transformation of Seattle's waterfront is made possible by the need to replace the failing Alaskan Way Viaduct and Elliott Bay Seawall. In place of the Viaduct, the project will create an exciting destination with vibrant public and cultural spaces, access to the water and a new urban street that will accommodate all modes of travel and provide an important connection in the City's transportation system.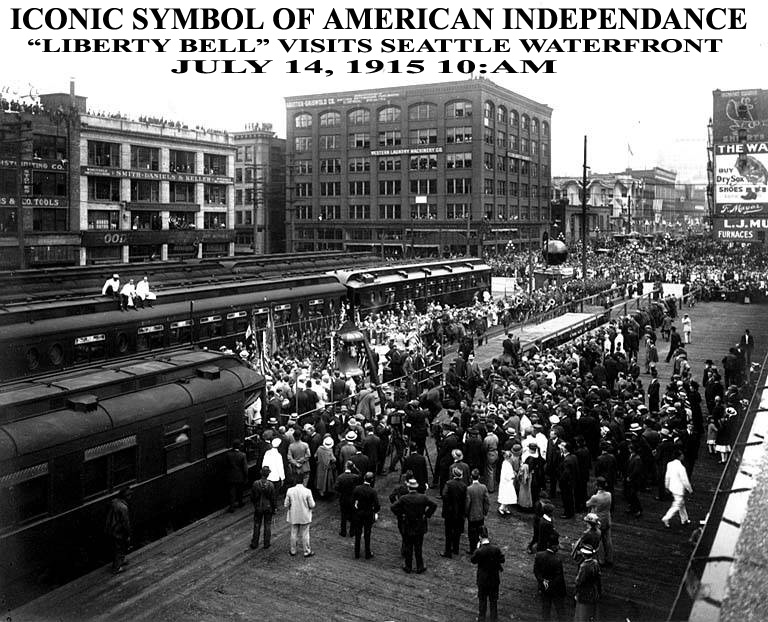 ONCE IN A LIFETIME
As the train arrived in Seattle, all the airhorns downtown and all the ships' whistles in Elliott Bay blasted out as one. Permission was given to ring the old University Bell, located at 2nd Avenue and Union Street near the Bon Marché. The crowds roared. The din in Seattle was nearly deafening.
The Liberty Bell train pulled into King Street Station at 9:39 a.m. Five coaches festooned with red, white, and blue bunting were followed by a flatcar carrying the bell in open air for all to see. The bell rested on a massive wooden sawhorse, surrounded by four guards.
After the train stopped, 13 women dressed in colonial costumes representing the original 13 colonies escorted Seattle Mayor Hi Gill and Chief of Police Louis M. Lang aboard the flatcar.
The car was moved onto a spur track at Occidental Avenue and King Street for viewing.
Marine bands played, and wreaths, flowers, and miniature flags were thrown onto the flatcar. The crowd pressed forward. Some cried out in joy while others wept. A frail elderly couple, fighting their way to the front of the crowd, were escorted through and hoisted up onto the flatcar to see the bell up close. They kissed its weathered surface, knelt, and said a prayer. Afterwards, they were seen with "a radiant glow on their faces, indicating that one of the ambitions of their lives had been satisfied" .
At the end of the ceremonies, a 21-gun-salute was fired, followed by a rousing rendition of the Star Spangled Banner, sung by Mrs. Joseph R. Manning. The flatcar and bell were brought back to King Street Station to continue the trip south. Soon after leaving Seattle, the Liberty Bell arrived in Tacoma at 4:00 p.m., where it was greeted with the same joy and excitement as had occurred earlier in the day, and throughout the nation.(Seattle Post-Intelligencer)
---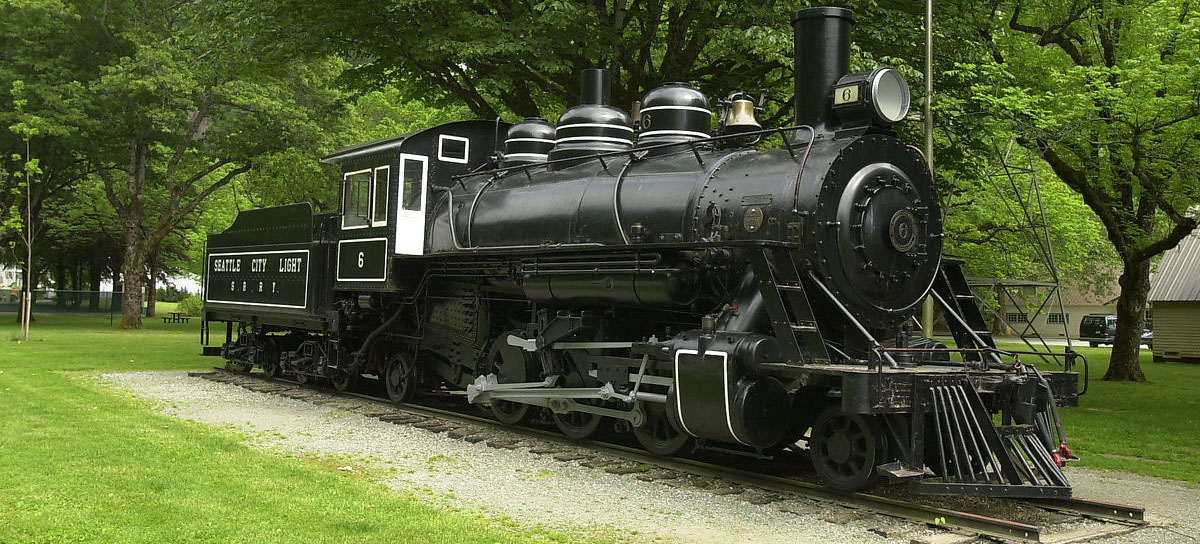 The Seattle and Northern Company in 1890, had constructed the Skagit Valley Rail Line to six miles below Hamilton. James J. Hill's and the Great Northern Railway Company purchased the Fairhaven and Southern Rail Line to Sedro Woolley in 1889. The Great Northern Railroad had gained transportation domanance extending to Rockport, at the confluence of the Skagit and Sauk Rivers.
Great Northern's Plan employed John F. Stevens to survey the North Cascades Line to link Seattle and Spokane with rail service from St. Paul to Puget Sound.
James J. Hill and John F. Stevens traveling from Marblemount up the Cascade River, over Cascade Pass, and down the Stehekin. Great Northern Railroad Survey Party at the Pressentins Hotel at Marblemount hired Otto Pressentin as camp cook for the six-day expedition. John F. Stevens was not impressed with North Cascades Line and later selected the pass named for him to cross the Cascades Mountains through a 7.8 mile tunnel at Scenic, Washington.
Seattle City Light Department began planning a new hydroelectrical plant and started construction of "Seattle Skagit River Railway" from the Great Northern Terminus at Rockport, up the Skagit River in 1919. The Rail Line reached Gorge Creek in 1920, 25 miles from Rockport. By 1927 the"Seattle City Light and Skagit River Railway" completed a six milesrail line to construction the Diablo Dam.
In 1937 construction began on Ross Dam 4-1/2 miles farther up the river. Railroad freight cars reached that site by an inclined railway at Diablo. The an inclined railway lifted 600 feet up a cliffside at a 68% grade switched by electric locomotive hauled freight one-quarter mile to Diablo Lake. Meeting a tugboat and 2 railcar barge operation to the Ross Dam site where another steep incline railway reached to the powerhouse yard.
Seattle City Light and Skagit River Railroad provided passenger transportation for travelers, logging and mining companies supplies along the Skagit, including Skagit Railway Tours, to 1,800 visitors a week until 1941. Although World War II brought an end to passenger service, the railroad continued to haul supplies to the dams until 1953.
The same inclined railroad that once hauled freight cars, now provides tourist services. The Balwin Engine #6 continued tour services untill mid-1980's in Sedro-Wooley area, it now static-rests in Newhalem, Washington is only railroad rolling stock still owned Seattle City Light and Skagit River Railway.
IT IS NOW TIME TO RESTORE THIS HISTORICAL LOCOMOTIVE TO A WORKING MODEL OF SEATTLE'S RAILWAY HISTORY

---

1918-1953 SEATTLE CITY LIGHT AND SKAGIT RIVER RAILWAYNEWHALEM, WASHINGTON
The Skagit River Hydroelectric Project in Washington State began in 1918-1961 with the completion of the Ross Dam, including the Gorge, Diablo and Ross dams powerhouses, and is affiliated Newhalem Creek Hydroelectric Project.
In 1917, with the city of Seattle suffering through an electricity shortage, Seattle Department of Lighting superintendent James Delmage Ross, decided on the Skagit River Hydroelectric Project.
In 1920, Seattle City Light constructed a small plant on Newhalem Creek to supply power for the dam construction facilities. Including a 26-mile operating railroad to Rockport and the Gorge powerhouse by 1925.
Superintendent, James Delmage Ross of Seattle City Light considered the Ruby Dam to be the most important for the Skagit Project. Lars Jorgenson Consulting Firm andthe Constant Angle Arch Dam Company, were selected to design the Diablo Dam. The Ruby site reservoir had to be cleared of timber to build the Diablo Dam and powerhouse. The dam would facilitate water transport of logs and supply power for the project.
Seattle City Light had embroiled in a rivalry with Puget Sound Power and Light. A "sabotage" telegram sent to the Federal Power Commission insisted that the constant-angle arch dam design planned for Diablo was unsafe. Ross Dam Project could not always gain support from the City of Seattle.
Construction of Diablo Dam was dedicated in August of 1930. The design of the powerhouse was the subjectrd planning battle between J.D. Ross (prevailed) and city engineer Reginald Thomson, causing the project ran out of funding and construction stopped for nearly four years. Diablo Power came online in September of 1936.
Upon completion of the Newhalem, Gorge, and Diablo dams and powerhouses, could begin construction on the Ruby Dam. The Ruby Dam with its large reservoir would provided flood control on the lower Skagit. The first two phases of the dam construction were completed by 1949, and the third phase was to begin as needs demanded. Thirty years later, City Light decided instead to purchase power from British Columbia. In 1939 Ruby Dam Project was renamed "Ross Dam" after the Superintendent, James Delmage Ross death remains unfinished.
The towns of Newhalem, originally called City Camp, included bunkhouses, a commissary, and even a small theater hall for community events. In 1920 houses was built for project personnel, was known as Silk Stocking Row. Newhalem soon became a popular railway tourist destination, offering two-day tours to the Diablo and Ruby sites. In 1929 Superintendent, James Delmage Ross hoped one day Diablo Dam would be a tourist resort and built the Ladder Creek Falls Arboretum.
The Seattle City Light & Skagit River Railway tourism operations continued profitable until WII began in 1941; the Skagit Project area was then "designated as a "vital wartime industry""
and closed to the public, never regaining 93,600 yearly railway visitors as a railway tourist destination.
IT IS NOW TIME TO RESTORE THIS HISTORICAL RAIL LINE TO A WORKING MODEL OF SEATTLE'S RAILWAY HISTORY

---

Balwin Class P-2 #:2507
began life in the fall of 1923 at the
Baldwin Locomotive Works
, one of 28 engines purchased for fast passenger service. The P-2's renowned for their speed, reliability, and engineering design with 73" drivers, 210 p.s.i. boiler pressure and 29"x28" cylinders gaving the locomotice power for passenger signature service on GN Empire Builder. The Empire Builder P-2s could be found pulling silk trains, the Fast Mail, Oriental Limited and the Glacier Park Limited.
For three decades "Balwin Class P-2 #:2507" sat silent at Maryhill Museum. Mechanically, it was still in good shape, and in the early 1990s a group of Seattle steam enthusiasts banded together to form the "Northwest Railway & Locomotive Preservation Association (Dissolved)", with the goal of restoring the engine to service.
The Balwin Class P-2 #:2507 was leased to the "Northwest Railway & Locomotive Preservation Association" by Klickitat County, and was painted in October 1992, when the SP&S logo on its tender was replaced with the proper GN goat herald. Then on January 29, 1994, the 266-ton 4-8-2 was shipped to the Port of Pasco, where failed restoration at an industrial complex near BNSF's Pasco yard. The 2507 was then leased to the Washington State Railroads Historical Society, which also wanted to restore and operate the 4-8-2, with again failed restoration at Pasco for a decade.
On Monday, July 7, 2003, BNSF C44-9W No.4458 shipped Balwin Class P-2 #:2507 to Wishram, Washington.
IT IS NOW TIME TO RESTORE THIS HISTORICAL LOCOMOTIVE TO A WORKING MODEL OF SEATTLE'S RAILWAY HISTORY

---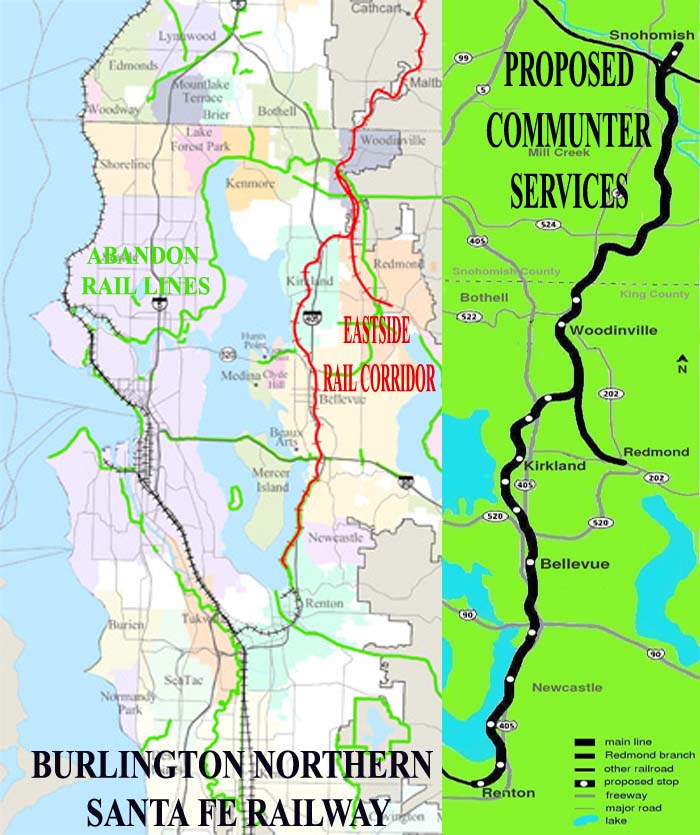 SEATTLE'S EASTSIDE RAIL CORRIDOR
Historic Seattle Lakeshore & Eastern Railroad Line
The 42-mile of the original "Historic Seattle Lakeshore & Eastern Railroad Line" known as "Eastside Rail Corridor" that extends from Renton to Snohomish is now under public ownership. The Port of Seattle purchased the BNSF Eastside Rail Corridor, with King County purchasing a trail easement and becoming the trail sponsor. The Port of Seattle signaled that it is time for other regional partners to join in a public-private partnership that will keep the parcel out of the reach of private developers (Non-Railroad Developers).
The transaction began in 2003 when (Eastside Corridor Commuter Rail Feasibility Study) BNSF announced its intention to abandon the "Historic Seattle Lakeshore & Eastern Railroad Line". In governmental partnership with the Port of Seattle and King County acted to prevent the corridor from being broken up and sold to non-railroad development interests. In 2007, the Port of Seattle agreed to purchase the "Historic Seattle Lakeshore & Eastern Railroad Line" and lease the southern portion of the corridor to King County for both use as a trail and possibly an Eastside transportation corridor.
The Port of Seattle is working with the King County and a group of regional stakeholders, as:
Sound Transit
City of Redmond
Puget Sound Energy
Cascade Water Alliance
No "Private, industry or raileway" stakeholder has been allowed to participate

To connect ownership and use of the parcels with the appropriate agencies and jurisdictions.

On December 14, 2009, the King County Council agreed to give the County Executive Ron Sims up to $26.5 million in negotiating authority to assist in the purchase of the corridor. Port of Seattle to pay Burlington Northern Santa Fe Railroad $81M for "Historic Seattle Lakeshore & Eastern Railroad Line".

King County is proposing development as a "dual-use" corridor—with the potential to meet future:
Public Transportation
Connections to South, East and North King County through rails-to-trails projects. Note: This is a way for King County to Boost Property Taxes on Home Owners, to increase King County revenues.

On July 30th, 2007, the 20 year old profitable employer "Spirit of Washington Dinner Train" between Renton and Woodinville, was forced to abandon it railway passenger operations, do to Port of Seattle agreement to purchase "Historic Seattle Lakeshore & Eastern Railroad Line"

Since, King County has taken ownershp of "Historic Seattle Lakeshore & Eastern Railroad Line", no progress has been establish to reinstate the "Dinner Train Service", nor has any railway service been allowed to operate over "Historic Seattle Lakeshore & Eastern Railroad Line"

King County has made no effort to bring railway related industry (Employors) to Eastside Rail Corridor

King County has refused to allow any railway traffic to utilize the "Historic Seattle Lakeshore & Eastern Railroad Line"

Advocacy Groups have been establish to address reinstating rail traffic, such as:




Board Chairmen:
Louis Alloin Member of: National Railroad Historical Society, American Association Private Railcar Owners, Seattle Transportation Club, Railroad Passenger Car Alliance
President: Louis Alloin Vice President: Secretary: Treasurer: Editor: National Director: Membership Director:



Kitsap Live Steamers

---
A Washington State Nonprofit Corporation
UBI 603-215-892

NAME OF CORPORATION
The amended name of the corporation is Seattle Railroad Historical Society.
EFFECTIVE DATE OF INCORPORATION
Filed by State of Washington, Secretary of State On 5-29-2012
Amended: None
TERM OF EXISTENCE
The term of existence shall be perpetual.
PURPOSE FOR WHICH THE NONPROFIT CORPORATION IS ORGANIZED
This Corporation is a nonprofit membership corporation, organized and operated exclusively for Seattle Railroad Historical Society with purpose and intent to engage in Railway Heritage & Museum Centre towards Resoration and preservation of Seattle's rail history, including railway mutual understandings, scientific, educational, railway organizations, enhancing rail line communities, railway events promotions and contributional organization of rail exhibitions, including charitable purposes as defined by Section 501(c)(3) of the Internal Revenue Code of 1986, as amended (the "Code"), including, but not limited to:
(a) protect ingnational Seattle Railroad Historical Society intellectual property consisting of the virtual machine, tools, libraries, and computer language implementations collectively known as "Seattle Railroad Historical Society";
(b) cultivating an open source Seattle's rail line community heritage anf historical development in Washington State, railway operations of all kinds and environmental stewardship of trackage right of ways, railway service leadership of complementary tools, libraries, extensions, applications, and computer language implementations;
(c) offering Seattle Railroad Historical Society to members of the general public through the use of open source licensing;
(d) educating members of the general public in the application of Seattle Railroad Historical Society;
(e) advancing Seattle Railroad Historical Society through governmental/Industrial leadership affairs, scientific research, development and mutual understandings of Seattle' Rail line communities heritage and historical restoration and preservation as applied to railway services; and
(f) Aiding, supporting, and assisting by gifts, grants, contributions, or otherwise, other persons or organizations of any kind, provided that such activities are consistent with the foregoing purposes.
(g) Aiding, supporting, and assisting by fundraising, acceptance of gifts, grants, contributions, or otherwise, other donations from persons or business cooperational agreements from organizations of any kind, provided that such activities are consistent with the foregoing purposes.
The Corporation shall have all powers now or hereafter granted by law, and all powers lawfully necessary or required to carry out its purposes, either alone or in cooperation with others, subject to such limitations and conditions as are or may be prescribed by law, or in the Corporation's Articles of Incorporation or Bylaws. All of the purposes and powers of the Corporation shall be exercised exclusively for charitable, scientific,resoration, preservation and educational purposes in such manner that the Corporation shall qualify as an exempt organization under Section 501(c)(3) of the Code, or any successor provision, and that contributions to the Corporation shall be deductible under Section 170(c)(2) of the Code or any successor provision.
No substantial part of the activities of the Corporation shall be the carrying on of propaganda, or otherwise attempting to influence legislation, except as otherwise permitted to an organization described in Section 501(c)(3) of the Code or any successor provision. The Corporation shall not participate in or intervene in any political campaign on behalf of (or in opposition to) any candidate for public office.
Notwithstanding any other provisions of these Articles, the Corporation shall not carry on any activities not permitted to be carried on (a) by a corporation exempt from federal and state income taxes under Section 501(c)(3) of the Code or any successor provision or (b) by a corporation, contributions to which are deductible under Section 170(c)(2) of the Code or any successor provision.

1 -ARTICLES OF INCORPORATION
No part of the net earnings of the Corporation shall inure to the benefit of or be distributable to its directors, officers, or other private persons, except that the Corporation is authorized or empowered to pay reasonable compensation for services rendered and to make payments and distributions in furtherance of its purposes. During the period the Corporation is the beneficial owner of any securities of an issuer with a class of equity security which is registered pursuant to Section 12 of the Securities Exchange Act of 1934, no director or officer of the Corporation who is also an officer, director or beneficial owner of more than 10 percent of any class of equity security of such issuer, or any other individual or entity (if securities held by such other individual or entity would be deemed to be beneficially owned by such director or officer for the purposes of Section 16 of such Act) shall directly or indirectly engage in any self-dealing transaction with the Corporation, including any act which would be self-dealing as defined in Code Section 4941(d) if the Corporation were a private foundation as defined in Code Section 509(a) and such director or officer were a disqualified person as defined in Code Section 4946 with respect to the Corporation.
If this Corporation is or becomes a private foundation within the meaning of Section 509 of the Code, and for as long as such private foundation status continues, the Corporation shall distribute its income for each taxable year at such time and in such manner as not to become subject to the tax on undistributed income imposed by Section 4942 of the Code, and the Corporation shall not
(i) engage in any act of self-dealing as defined in Section 4941(d) of the Code;
(ii) retain any excess business holdings as defined in Section 4943(c) of the Code;
(iii) make any investments in such manner as to subject it to tax under Section 4944 of the Code; or
(iv) make any taxable expenditures as defined in Section 4945(d) of the Code.

IN THE EVENT OF A VOLUNTARY DISSOLUTION, THE NET ASSETS WILL BE DISTRIBUTED AS FOLLOWS
Upon the winding up and dissolution of the Corporation, the assets of the Corporation remaining after payment of or provision for payment of all debts and liabilities of the Corporation shall be distributed to an organization or organizations, as determined by the Seattle Railroad Historical Society Board of Directors, that are recognized as exempt under Section 501(c)(3) of the Code or any successor provision, and used exclusively to accomplish the purposes for which this Corporation is organized.

NAME AND ADDRESS WASHINGTON STATE REGISTERED AGENT
Seattle Railroad Historical Society 245 High School Road, NW-2 Bainbridge Island, WA-98110

NAMES AND ADDRESSES OF EACH INITIAL BOARD DIRECTOR
Louis Alloin, Chairmen, 245 High School Road, NW-2, Bainbridge Island, Washington 98110 Louis Alloin, Treasurer, 245 High School Road, NW-2, Bainbridge Island, Washington 98110 Louis Alloin, Secretary, 245 High School Road, NW-2, Bainbridge Island, Washington 98110

2 -ARTICLES OF INCORPORATION
NAMES AND ADDRESSES OF EACH INCORPORATOR
Louis Alloin, Secretary, 245 High School Road, NW-2, Bainbridge Island, Washington 98110 Email: wsntda@usa.com

SIGNATURE OF INCORPORATOR
Dated this 29tt of May 2012.
Louis Alloin, Incorporator
CONSENT TO SERVE AS REGISTERED AGENT
The Undersigned Corporation, Seattle Railroad Historical Society, Inc., hereby consents to serve as registered agent in the State of Washington for the above-named corporation. The undersigned understands that as agent for the Corporation, it will be its responsibility to receive service of process in the name of the Corporation, to forward all mail to the Corporation, and immediately to notify the office of the Secretary of State in the event of its resignation or of any change in the registered office address of the Corporation for which the undersigned is agent.