PROPOSED SEATTLE-ALASKA FERRY TRANSPORTATION
PIER 48 CENTRAL WATERFRONT REDEVELOPMENT MISSION

The Mission and Vision of the Mayor's Seattle Central Waterfront Committee, is to redevelop the Central Waterfront with the general concept of making the Seattle Central Waterfront a place that will bring people, Artist, business, commerce and merchants to re-habitat the area with interesting sights, sound and activities.
The Purpose of this web-page is to provide information and further an idea toward a dialog for the "Mayor's Central Waterfront Committee" and People of Seattle and Washington State, to introduce a viable concept to bring the Harbor of Elliott Bay alive with year round roro freight and passenger ship services, towards idea of reinstating service to Alaska.
Thereby, creating necessary dialog and mutual understanding, to implement a working leadership core of interested businessmen, investors, railways and trucking freight services, along with travel and tourism industry, to participate in the restoration of passenger ship services and application of railway technology improvement to Port of Seattle.
Currently, railway freight car shipping between Seattle & Whittier is done by "slow moving tug-n-barge" technology. Including, the movement of Seattle barge's to different dockside locations for "intensive overhead crane loading" of trucks, containers, construction equipment and vehicles. Current Seattle barge service does not include passenger tourism services.
The introduction of a motor-rail-passenger vessel to Seattle and Whittier, is "not intend to discontinue barge services", rather to enhance mobility of maritime business opportunities, provide additional shipping services to bring new business to "Port of Seattle and Whittier".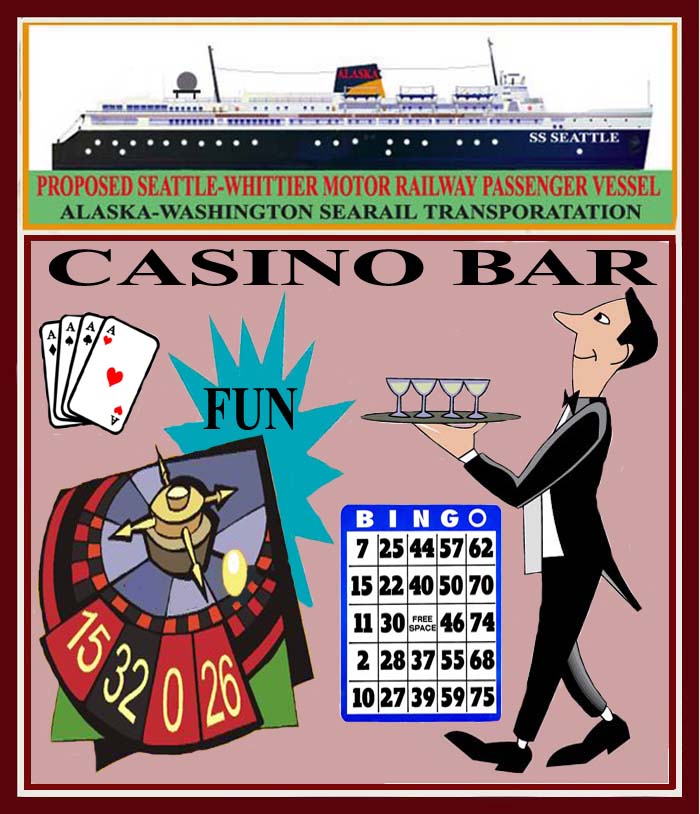 Thereby, allowing Seattle and Alaska to increase rail freight and passenger services, by the establishment of connections for "Private Railcar Passenger Industry, Amtrak/National Connecting Services, Rail Tourism Economic Development. To which Seattle become a major rail passenger and freight terminal to Alaska
The Proposed Vessel SS Spartan, is a ship having the necessary requirements for use between Seattle and Whittier, including the vessel has national historic interest for being persevered under National Historical Places and Landmarks. Making the "Steam Ship Spartan" an ideal choice, financially feasible option, with local ship yard retrofitting the ship for its new mission for the Seattle-Alaska Trade Route. However, it should not be taken as an "Only Option" toward select of a suitable vessel. Thereby, this proposal to use SS Spartan is to open a viable dialog, to toward development of such a services. Therefore, to further research for other available vessels or the option to build a new vessel.
The SS Spartan, can improve container/truck load shipping, railway traffic, and increase round-trip sailing schedules, with more reliable performance in shipping and tourism options.
Louis Alloin, Spartan Project Administrator, ATD LINES, President, RBCS, CEO, SRHS, Administrative Director Memberships: AAPRCO NRHS STC Former ARCA CWC Stakeholder

MIGHTY SPARTAN SAILS AT 15.6 KNOTS
COAL-NATURAL GAS OR OIL TO STEAM PROPULSION SHIP
WEATHER & SEA RELIABILITY
The S.S. Spartan was built for year 'round sea conditions, capable of sailing in almost all types of weather and seas encountered during her commission.
SS Spartan is one of the largest rail-passenger steam propulsion ferry ever built for Chesapeake and Ohio Railway to sail Lake Michigan, and has provided safe and reliable railway ferry transportation for twenty-seven years. The SS Spartan is a national treasure, It can offer 15.6 knots cruising speed between Whittier and Seattle shippers and the ultimate travel experience for business and vacation adventure.
SS Spartan is currently a coal-fired steamship with capacity to convert its four Foster-Wheeler water-tube type D boilers to "Natural Gas" fired boilers to generate 450psi with local domestic fuel, with intent is to preservation of ship's extraordinary historical commitment to maintaining a unique propulsion system that can be designated as a national mechanical engineering landmark. The SS Spartan would offer Alaska and Washington State an authentic railway steamship experience for business and tourism.
The 410' SS Spartan, know as the "Might Spartan" entered service in October 1952, designed specifically to handle the rough seas and weather conditions that it would likely encounter during year round sailing. Built primarily to transport railroad freight and passenger railcars, but with superior passenger services and accommodations, the Spartan reigned as "Might Spartan" railway steam ferry during the "Golden Era" of luxury railway servicing ports of call. By the Seventies, changing railroad economics condemned SS Spartan in September 1979 decommissioned mothball fleet.
Chesapeake and Ohio Railway never tapping into the opportunity to serve a wider diversity of transportation needs of the railway tourism.
The Chesapeake and Ohio Railway Ferries demise was devastating to the communities, thousands of passengers and business services. However, in 2012, American Train Destination Lines entrepreneur named Louis Charles Hoffman Alloin committed "The Railway Business Car Service" to reinvent the Spartan, during depress economy and Seattle interest to redevelop the central waterfront toward active business center, that included increasing commercial venture for port industries in Seattle, Washington and Whittier, Alaska.
The Spartan remains unused, tied up in Ludington Harbor. However, the Spartan, like her sister ship, could still offer ferry service for large trucks, oversize loads, autos, railcars and a romantic journey between Alaska and Washington State.
The Seattle Central Waterfront Project, blends maritime and railway tradition with new innovation applications of technology, history, culture, arts and economic business development, inwhich the Spartan can afford a new opportunity to take a step forward to increasing maritime travel and shipping services.



The SS SPARTAN will offer Spacious Outer Decks For:
- Walking - Jogging - Lounge Chairs - Photography - Shuffle Board - Other Deck Recreation
The SS SPARTAN will offers Spacious Inner Decks For: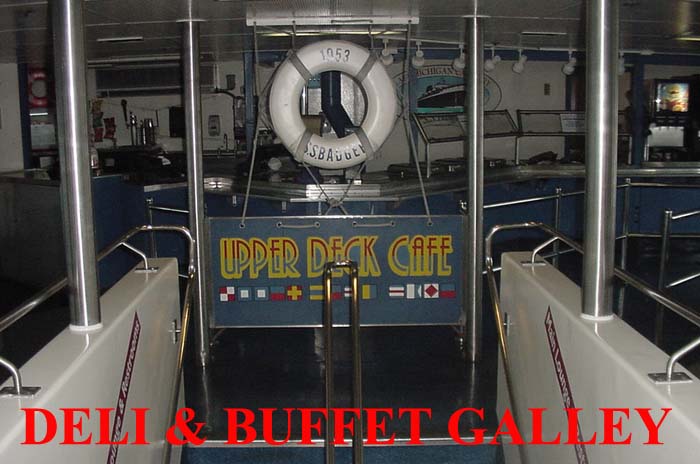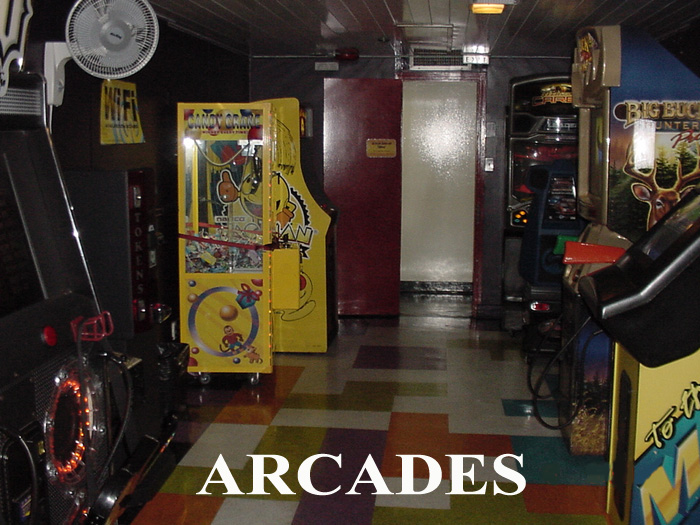 Grand Dinning Room
Deli-Buffet-Style Galley
4:pm Wine & Cheese Tasting
Refreshments & Snack Bar
Spacious Lounge Areas
Art Sales & Viewing Areas
Live Entertainment
Library & Museum
Private Staterooms
Health SPA & Steam Room
More Recreational Activities

One-Way 71 Hours
Round-Trip 142 Hours

Seattle Departure Monday
Whittier Arrival Wednesday
Whittier Departure Thursday
Seattle Arrival Sunday





One-Way 1389 Nautical Miles
Round-Trip 2778 Nautical Miles





12-64 ages 2-Adult Passenger Fare: $3,488.00 Round-Trip
5-11 Children Fare: $1,744.00 Round-Trip
Children Under 5 $0.00





Pre-Boarding "PORT LOUNGE SERVICES"
Champaign Departure Included
Breakfast, Lunch & Dining Included
Baggage Service Included
Stateroom Included
Wheelchair Access




Fare Does Not include Driver

One-Way up to 15ft $1,400.00
One-Way up to 19ft $1,700.00
One-Way up to 21ft $2,100.00
One-Way Bicycles $200.00
One-Way Kayak Racks Use $250.00
One-Way Storage Locker Use $250.00
Calculate vehicles over 21 feet: Multiply the total vehicle length by the rate of $110.00per foot.









COASTAL CLASSIC TRAIN SERVICES
The Coastal Classic Train is a local favorite that winds through the stretch of wilderness between Anchorage and Seward. A string of massive glaciers visible from the track enriches the journey. This train travels to the shores of Resurrection Bay for convenient connection to Kenai Fjords National Park, whale watching, sea kayaking, tidewater glacier viewing, fishing, and dog sled rides.
WHITTIER
The rail journey starts between the glacier-capped Chugach mountains and Prince William Sound. Built by the U.S. Government during World War II as a hidden port, today Whittier is the gateway to a recreational wonderland. The Alaska Railroad from Whittier all the way to Fairbanks has spectacular scenery from the edge of Prince William Sound through the Chugach mountains.
SEWARD
The southern terminus of the railroad begins its climb through primeval forests of Sitka spruce. After crossing Snowy River, Kenai Lake comes into view, set off with its stunning aqua color and surrounded by soaring mountains.
MOOSE PASS
Thirty miles into the rail journey winding through Moose Pass, at the shores of Trail Lake. As the rail ascends into the Kenai Mountains, it leaves behind the forests and reveals mountain meadows and streams of gin-clear glacial waters. Trail Glacier appears on the right and soon after, the summit of Grandview at 1,063 feet. The historic Loop District, named for a complex series of trestles built to handle the steep grade in the age of steam engines. In the same stretch, Bartlett Glacier crowds the track just 800 feet away.
PLACER RIVER VALLEY
After passing through a series of short tunnels, the train descends to the Placer River Valley near Spencer Glacier. Moose, bear and wolves populate the valley among the willow and alder trees. Trumpeter swans migrate through in spring and fall and arctic terns hover above the ponds and river looking for small fish and insects. Twelve miles later Turnagain Arm appears, where 40-foot tides rush into the narrow confines of the Chugach Mountains. Beluga whales pursue salmon and other schooling fish. Next comes Girdwood, home to Alaska's premier ski resort.
CHUGACH NATIONAL FOREST
The Chugach National Forest borders Turnagain Arm, some six million acres, the second largest in the U.S. Bald eagles cruise the thermals above and Dall sheep come to feed on the low plants growing on the cliffs bordering the railway. Next comes Potter Marsh in the Anchorage Coastal Wildlife Refuge.
GOLDSTAR SERVICE
Available on the Coastal Classic for summer. Now passengers can see the most beautiful stretch of the Alaska Railroad from the most beautiful cars and our exclusive upper level outdoor deck!
GoldStar Service features:

Confirmed seat in the upper-level dome car
Complimentary: coffee, soda, tea served at your seat
Priority seating in the lower-level dining room
Private outdoor viewing deck


GLACIER DISCOVERY TRAIN SCHEDULE
MAY-SEPTEMBER 2013
Depart
Arrive
Anchorage
9:45 AM
Girdwood
11:00 AM
Girdwood
11:00 AM
Portage
11:40 AM
Portage
11:40 AM
Whittier
12:05 PM
Whittier
12:45 PM
Portage 2nd stop
1:15 PM
Portage 2nd stop
1:25 PM
*Spencer WS
1:45 PM
*Spencer WS
1:55 PM
Grandview
3:20 PM
Grandview
3:30 PM
*Spencer WS
4:30 PM
*Spencer WS
4:40 PM
Portage
5:15 PM
Portage
5:15 PM
Whittier
5:30 PM
Whittier
6:45 PM
Portage
7:15 PM
Portage
7:20 PM
Girdwood
7:35 PM
Girdwood
7:35 PM
Anchorage
9:15 PM


Passengers remain onboard at Grandview. All Spencer & Grandview passengers may disembark train at Portage for motorcoach transfers to Anchorage 5:20PM-6:45PM.



ONBOARD SERVICES

Dining
Baggage Service
No-Smoking Cars
Wheelchair Access
WS Refers To Whistle Stop Services


Alaska Marine Lines: Connects Alaska Railroad at Whittier, AK to Seattle, WA, "Sea-Train Barge".

SAILINGNORTH

ETD SEATTLE

ETA WHITTIER

ETA ANCHORAGE

ETA FAIRBANKS

ETA SEATTLE

1305

Wednesday 1/23/2013

Wednesday 1/30/2013

Friday

2/1/2013

Tuesday 2/5/2013

Monday 2/11/2013

1306

Friday

2/1/2013

Friday

2/8/2013

Monday

2/11/2013

Tuesday 2/12/2013

Monday 2/18/2013

1307

Wednesday 2/6/2013

Wednesday 2/13/2013

Friday

2/15/2013

Tuesday

2/19/2013

Monday 2/25/2013

1308

Wednesday 2/13/2013

Wednesday 2/20/2013

Friday

2/22/2013

Tuesday

2/26/2013

Monday 3/4/2013

1309

Wednesday 2/20/2013

Wednesday 2/27/2013

Friday

3/1/2013

Tuesday 3/5/2013

Monday 3/11/2013

1310

Wednesday 2/27/2013

Wednesday 3/6/2013

Friday

3/8/2013

Tuesday 3/12/2013

Monday 3/18/2013

1311

Wednesday 3/6/2013

Wednesday 3/13/2013

3/15/2013

Tuesday 3/19/2013

Monday 3/25/2013



POTENTIAL SEATTLE CONTRACT SUPPLIERS AND SERVICES
The Purpose of this section is to show the relationship of economic development and potential impact that motor-rail-passenger ship operating at the Port of Seattle, Washington with Railroad Industry local supplier, services and products.
This compilation of potential business opportunities does not address Central Waterfront, Historical Pioneer Square, SODO District and Downtown Merchant Shops, Restaurants, Boutiques, Hotels that potential passenger; their family and friend would patronize prior to boarding ship or trains.
---

POTENTIAL WHITTIER CONTRACT SUPPLIERS AND SERVICES
The Purpose of this section is to show the relationship of economic development and potential impact that motor-rail-passenger ship operating at the Port of Whittier, Alaska with local and Rail Line Communities supplier, services and products.
This compilation of potential business opportunities does not address Whittier Merchant Shops, Restaurants, Boutiques, Hotels that potential passenger would patronize prior to boarding train or ship.
---
POTENTIAL CONTRACT & SUPPLIER LIST:
---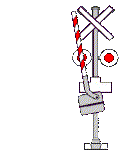 © Copyright 1981- ATD LINES All Rights Reserved
Not affiliated nor owned by NRPC-Amtrak