INTERMEDIATE INTERNATIONAL STATION

CascadesTrain #: 510,516,513,517

Reservation: 1-800-872-7245
Business Class Available
Bistro Lounge
Baggage Services

Amtrak Northbound 510/Dp-9:30am 516/ Dp-9:14pm
Southbound 513/Dp-9:18am 517/Dp-8:25pm

GENERAL: Tides Weather Local News Library Community & Senior Center In 1906 East Stanwood was platted and incorporated in 1922, Centerville Post Office was established in 1870 at the mouth of the Stillaguamish River and incorporated on October 19, 1903, merging the two towns in 1960.


FEATURES: History Farmers Market


ATTRACTIONS: Valley Cinemas Pearson House Museum EVENTS: Community Fair Garden Faire Harvest Jubilee Silvana Fair Snow Goose Festival

TRANSPORTATION: Island Transit Paratransit Community Transit Notice: Local transit services currently do not meet trains and night transit services is questionable. Check with transit services
TAXI: 629-Ride Notice: Local taxi services do not meet trains

EXPLORE AREA: Map Heritage Park Location

HOTEL/MOTEL: Within walking distance* "Will provide shuttle between station-hotel" Notice: Local lodging, refuse to pickup clients at station. Make sure you have made local transportation arrangements.
STATION FACILITIES Amtrak Private Railcar & Tour Train Siding Winter Station Advisary: Dress in warm winter clothing and complete body covering rain gear protection. As this station is without weather shelter protection. Also it is recommended to plan a dinner at local restaurant, inorder to stay out of winter weather conditions. If you are unable to find local merchants to allow temporary seating, bring a warm blanket and plastic rain covering. Remmber, many local merchants close at 5pm.
SUPPORT SERVICES: Amtrak Special Accessibility Amtrak Disability Reservation WARNING: This Station has no Public Telephone on Platform and local merchant telephones are out of order.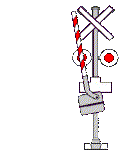 © Copyright 1981- ATD LINES All Rights Reserved
Not affilated nor owned by NRPC-Amtrak